STUDY ABROAD
OFFICE OF INTERNATIONAL EDUCATION
Upcoming Event - Wednesday, September 7th

The Morehouse College Office of International Education 2022
International Education Symposium with a special focus on social justice.

The symposium will celebrate and highlight the experiences and work of Morehouse College students who studied abroad in the spring and summer 2022. Projects of students who participated in social justice-focused study abroad experiences will be featured.

This is a wonderful opportunity to learn about study abroad at Morehouse College!

The 2022 International Education Symposium will take place from
11:00 am – 4:00 pm on Wednesday, September 7th in the Massey
Conference Center. Lunch will be served.

Student Opportunity - OIE Study Abroad Ambassador Program

Please consider applying to become a Study Abroad Ambassador – working with the Office of International Education to advance study abroad at Morehouse!


Program Flyer (PDF), here
Student Highlight
Featured Scholarship
Featured Study Abroad Programs
ISEP Exchange for Morehouse College Students
Complete list of programs, here

Winter 2022/Spring 2023/Summer 2023
Students are allowed to participate in academic term study abroad experiences with our Morehouse College approved providers, CIEE, IES Abroad, ISEP, CAPA, and Arcadia. Each partner has strong safety and emergency support and protocols.
Important: Students interested in applying to a semester abroad program should be aware of the application process, please see a summary of the process, here.

Under the Programs Offerings tab, students can learn more information on the available experiences offered as well as application requirements and due dates. A listing of the semester program offerings can be found, here. Faculty/Staff-Led Program information can be found, here.
Spring 2023 Study Abroad Programs Under $14K
For additional information on summer and/or semester programs offered by our external providers, please feel free to reach out to a partner representative, link: contact list.

Read the Morehouse College study abroad financial policy, here.

Student Instructional Guide for Study Abroad Website
___________________________________________________________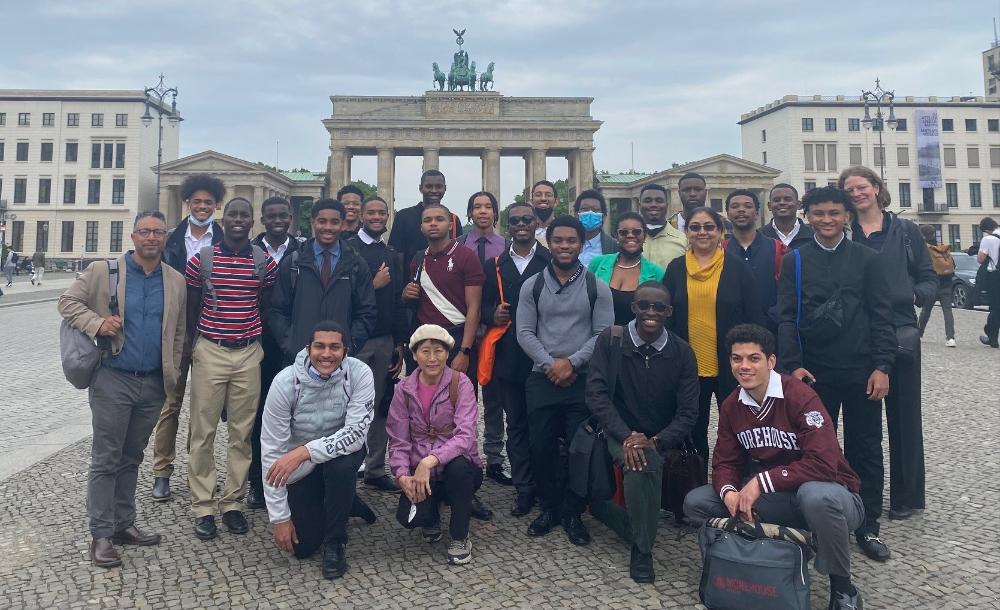 Germany STEM/Enterprise Launch Study Tour, May 2022. Group picture at the Brandenburg Gate, Berlin, Germany, 5/17/22.